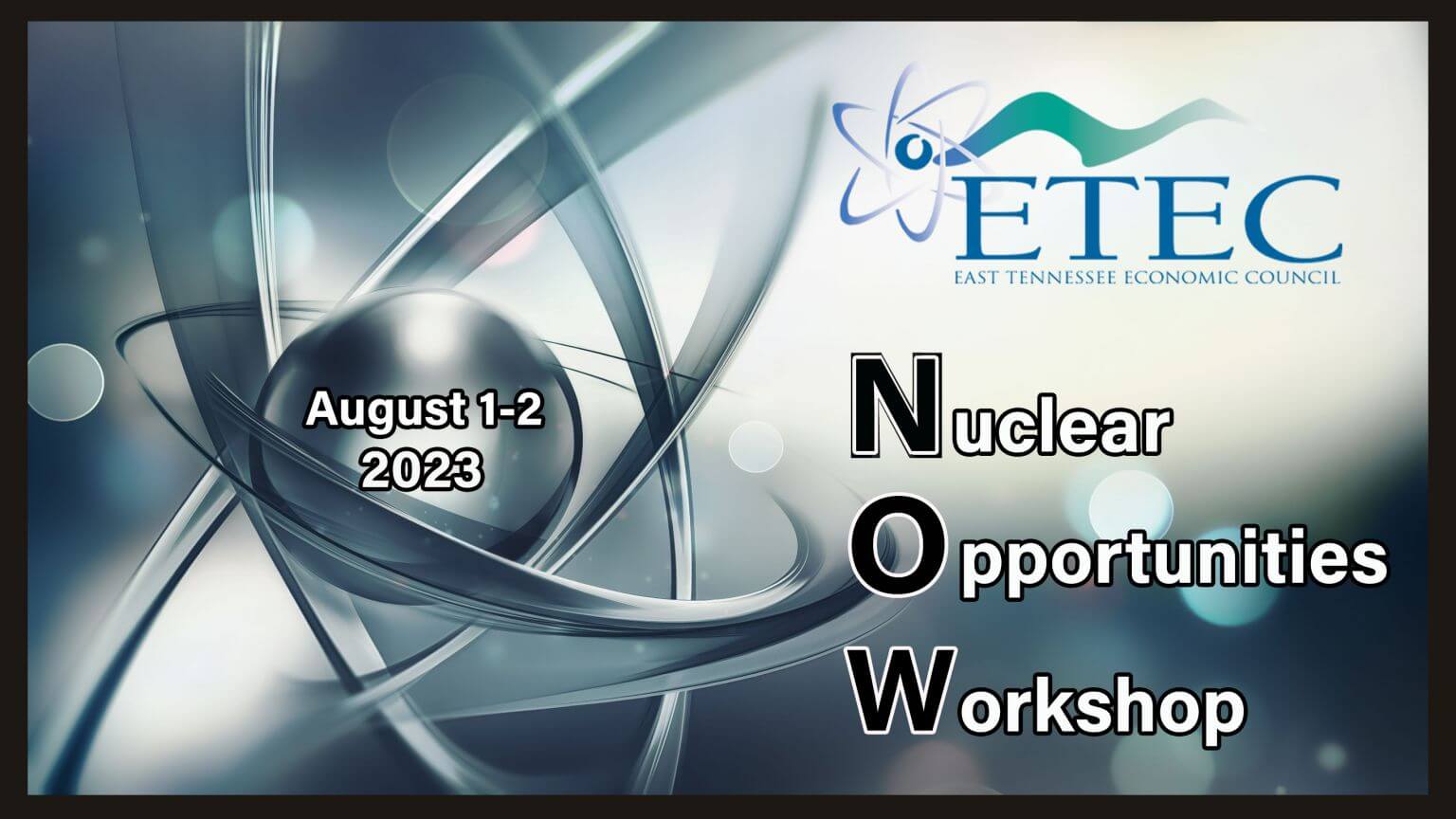 Below is the agenda for ETEC's 2023 Nuclear Opportunities Workshop. The times on the agenda may change depending on speaker availability.
Day 1 / Tuesday / August 1, 2023
9:00am - 11:30am - Exhibitor Set-Up
NOW Conference Supporters & Exhibitors may set-up displays from 9am-11:30am on Monday, August 1 at Hilton Knoxville Airport. Conference organizers will send detailed information via e-mail.  Feel free to reach out anytime with questions you may have to jennifer@eteconline.org.
12:00pm - 12:45pm - Check-In / Registration
Check-In will be in the lobby of the Hilton Knoxville Airport Event Center from Noon until 12:45pm on Monday, August 1st.  
Bob Morris, Chair, ETEC Nuclear Working Group
Tracy Boatner, President, East Tennessee Economic Council (ETEC)
1:05pm - Keynote: Michael Goff, Principal Deputy Assistant Secretary for the U.S. Department of Energy's Office of Nuclear Energy
Michael Goff, Principal Deputy Assistant Secretary for the U.S. Department of Energy's Office of Nuclear Energy
Introduction:  Harry Boston, Founder and President, Boston Government Services (BGS)
1:30pm - Session 1: State of Advanced Nuclear Reactor Development Status & Lessons Learned
Moderator: Andy Worrall, Section Head, Integrated Fuel Cycle Deputy Director, GAIN, Oak Ridge National Laboratory
Panelists: 
Georgette Alexander-Morrison, Vice President, Government Research & Development, X-energy
Rita Baranwal, Senior Vice President, AP300 Small Modular Reactor, Westinghouse Electric Company  
Greg Boerschig, Vice President, Clinch River Project, Tennessee Valley Authority
Lauren Lathem,  Advanced Nuclear Manager, Southern Company
Lou Martinez Sancho, Vice President, Strategy and Innovation, Kairos Power
Dan Stout, Chief Nuclear Officer, Ultra Safe Nuclear
2:45pm - Networking Break
3:15pm - Keynote: Jeff Lyash, CEO Tennessee Valley Authority
Jeff Lyash, Chief Executive Officer, Tennessee Valley Authority 
Introduction:  Jeff Smith, Interim Director, Oak Ridge National Laboratory 
3:45 pm - Session 2: Fusion Energy Development & Progress
Moderator:  Caroline Anderson, Manager, Fusion Industry Association
Panelists: 
Livia Casali, Zinkle Fellow & Assistant Professor, University of Tennessee, Knoxville
John Canick, Co-Founder and Chief Science Officer, Type One Energy Group
Patrick Ellis, Program Manager, General Fusion
Arnold Lumsdaine, Director, Innovation Network for Fusion Energy (INFUSE),  Oak Ridge National Laboratory
Mickey Wade, Associate Lab Director Fusion & Fission Energy & Science, Oak Ridge National Laboratory
The conference is adjourned and the Welcome Reception begins.
5:30pm - 7:30pm - Welcome Reception
Admission into the NOW Conference Opening Reception is included with conference registration.
Drinks and heavy hors d'oeuvres will be served with a brief program at 6:00pm
Speakers:
Lieutenant Governor Randy McNally, State of Tennessee
William "Ike" White, Senior Advisor, Office of Environmental Management, U.S. Department of Energy
Senator Ken Yager, State of Tennessee
Mayor Warren Gooch, City of Oak Ridge
Mayor Terry Frank, Anderson County
Day 2 / Wednesday / August 2, 2023
7:00am - 7:45am Check-In / Registration/Breakfast
If you did not check-in or register on August 1, you can check-in or register on Day 2 from 7:00am-7:45am. 
Enjoy a Hot breakfast buffet and networking before the conference begins!
Bob Morris, Chair, ETEC Nuclear Working Group
8:05am - Keynote: U.S. Representative Chuck Fleischmann (TN-03), Chairman, House Appropriations Energy and Water Development Subcommittee
Keynote Speaker:  U.S. Representative Chuck Fleischmann (TN-03), Chairman, House Appropriations Energy and Water Development Subcommittee
Introduction: Rich Tighe -Chief Executive Officer, Consolidated Nuclear Security
8:25am - Session 3: Tennessee's Nuclear Workforce Strategy, Training & Technology Advancements
Jeff Smith, Interim Director, Oak Ridge National Laboratory
Deniece Thomas, Commissioner, TN Department of Labor and Workforce Development
Moderator:  Bill Tindal, President, Omega Technical Services
Panelists: 
J. Wesley Hines, Postelle Professor, Chancellor's Professor, and Head Dept. of Nuclear Engineering, University of Tennessee, Knoxville
J.E. (Eric) Nolan, President, Atomic Trades and Labor Council
Ashley Stowe, Director, Oak Ridge Enhanced Technology & Training Center, Consolidated Nuclear Security
Deniece Thomas, Commissioner, TN Department of Labor and Workforce Development
Chris Whaley, President, Roane State Community College
Michelle Goodson, Workforce Solutions Senior Manager, Oak Ridge Associated Universities 
10:10am - Networking Break
10:40am - Session 4: Nuclear Cleanup & Environmental Justice
Moderator:  Eric Abelquist,Technical, Engineering, and Nuclear Safety Manager, United Cleanup of Oak Ridge
Panelists: (listed alphabetically by last name)
Sierra Generette, Environmental Justice & Public Engagement Specialist, United Cleanup Oak Ridge
Martin O'Neill, Associate General Counsel, Nuclear Energy Institute 
Elizabeth Phillips, Physical Scientist, U.S. Department of Energy
Sarah Schaefer, Project Director, Isotek Systems, LLC
11:55am - Buffet Lunch & Keynote
1:00pm - Session 5: Nuclear Fuels
Moderator:  Morris Hassler, Vice President, Joint Services/ Business Unit General Manager, IB3 Global Solutions
Panelists: 
Peter Newby, President, MS Technology
Ben Jordan, Manager, Centrus Energy
Kurt Terrani, Executive Vice President, Core Group, Ultra Safe Nuclear 
Brandon Blamer, Director, Process Engineering, Triso-X/X-Energy
Andrew Nelson, Section Head, Nuclear Fuel Development, Oak Ridge National Laboratory
2:15pm - Networking Break
2:45pm - Session 6: Nuclear Security & Energy Security
Moderator:  Martin Williamson, Senior Director of Global Security and Strategic Partnerships, Consolidated Nuclear Security 
Panelists:  (listed alphabetically by last name)
Benton Arnett, Director, Markets and Policy, Nuclear Energy Institute
Greg Boerschig, Vice President, Clinch River Project - Tennessee Valley Authority
Cary Crawford, Director, Nuclear Nonproliferation Division, Oak Ridge National Laboratory
Adam DeMella, Senior Vice President, Global Government Affairs, GE-Hitachi 
Howard Hall, Nuclear Engineering Department, University of Tennessee-Knoxville
Teresa Robbins, Manager, NNSA Production Office, DOE
4:00pm - Session 7: Nuclear Medicine & Radioisotopes
Moderators:  Julie Ezold, Technical Advisor, DOE Isotope Program, Oak Ridge National Laboratory and Lloyd Jollay, Vice President Istopes & Nuclear Fuel Cycle, Boston Government Services
Panelists: 
Jeremy Busby, Associate Lab Director, Isotope Science & Engineering, Oak Ridge National Laboratory
Scott Claunch, President, Isotopes Program, TerraPower  
Catherine Kolb, Senior Director of Plant Operations, SHINE Technologies
John Krueger, Radioisotope Production Lead, Ultra Safe Nuclear  
5:15pm - Wrap Up and Prizes
Bob Morris, ETEC Nuclear Working Group