NextGen Nuclear in the Oak Ridge Corridor
Leading with Innovation and Ingenuity
Building on our Manhattan Project era legacy of nuclear innovation, East Tennessee is again at the forefront of new nuclear technologies that have the potential to change the world. East Tennessee has many valuable resources for companies in the nuclear industry.
Tennessee has strong advocates in U.S. Congressman Chuck Fleischmann along with Tennessee's Governor Bill Lee who recently announced a $50M investment fund for recruiting companies in the advanced nuclear industry. Most recently Governor Lee signed an Executive Order to create a Tennessee Nuclear Energy Advisory Council. Combine this federal and state support with assets like Oak Ridge National Lab, Tennessee Valley Authority, and the University of Tennessee, and the future is bright for nuclear energy in The Oak Ridge Corridor.
Maps: Nuclear Companies Located in East TN
With specialized technical expertise and an industry cluster that grows more each year, East Tennessee is the best location in the nation for nuclear-related companies.
In fact, a recent study found 148 nuclear companies in the State of Tennessee. 131 of those companies are located in East Tennessee. Below is a map we created to show the density of nuclear companies in the region (August 2022). Also below is the map we created in 2015 so you can see the growth.
Quick Look: Nuclear Industry in East TN
Oak Ridge and the East Tennessee region offer opportunities for collaboration with both the public sector and private companies in a variety of areas.
Below is a list of many of those areas and some of the companies/entities that are working towards solutions.
Additive Manufacturing in Nuclear
Advanced Fission Reactor Technology
Fusion Technology Research and Design
Nuclear Fuel Supply and Processing
Nuclear Medicine/Isotopes
Nuclear Security & Training
Radiological Standards/Testing
Site Clean Up
 Decommissioning
Why East Tennessee?
Here are a few reasons why the nuclear industry wants to be in East Tennessee.
A nuclear advocate in the U.S. House of Representatives, Congressman Chuck Fleischmann, Chair of the House Energy and Water Development Subcommittee and co-chair of the House Nuclear Cleanup Caucus.
A pro-nuclear Governor and Legislature who has approved a $50 million Nuclear Fast Track fund to recruit more innovative nuclear companies to our state.
Access to research and development capabilities and collaboration with some of the world's experts relative to advanced nuclear technologies at the Tennessee Valley Authority, Y-12 National Security Complex, Oak Ridge National Laboratory (ORNL), and Oak Ridge Associated Universities.
TVA's Clinch River Site where they are making plans to host an Advanced Nuclear Reactor Technology Park with the potential for multiple different reactor technologies.
In East Tennessee Centrus Energy designs, tests, and manufactures the world's most advanced uranium enrichment centrifuge machines. Centrus also supports other companies in the advanced reactor fuel cycle by leveraging their decades of expertise in uranium chemistry, nuclear facility licensing, and criticality analysis.
A hub of advanced nuclear innovators making their home in Oak Ridge: Kairos Power, TRISO-X, and Ultra Safe Nuclear Corporation; along with fusion energy innovators, General Fusion.
A pro-nuclear community with a pool of talented individuals who have expertise in nuclear operations.
A strong system of education and workforce partnerships with the University of Tennessee and Tennessee Technological University in addition to nuclear training programs provided by Roane State and Pellissippi State Community Colleges.
A diligent and focused DOE Environmental Management program whose contractor UCOR is completing legacy cleanup at the Y-12 National Security Complex and ORNL to make way for new missions. This team also cleaned up the East Tennessee Technology Park, (former K-25 Mahanhattan Era site). Many nuclear companies have located in this brownfield site, now called

Heritage Center

, and in the adjoining Horizon Center Industrial Park.
Nearly 150 companies working in the nuclear industry statewide - see the 2022 nuclear industry map here.
ETEC's Annual Nuclear Conference
A nuclear industry conference focused on both fission and fusion subjects for professionals and suppliers. It is a place to learn about industry developments, business opportunities, and advancements in research and technologies. Attendees are able to network and connect with experts at Tennessee Valley Authority (TVA), and federal U.S. Department of Energy (DOE) contractors: Oak Ridge National Laboratory, Y-12 Nuclear Security Complex, United Cleanup of Oak Ridge (UCOR), and Oak Ridge Associated Universities (ORAU). Also, both small and large private-industry that have demonstration projects, students, interns, and post-doctoral candidates will be in attendance.
Click here to see a summary of the 5 past conferences held by the group.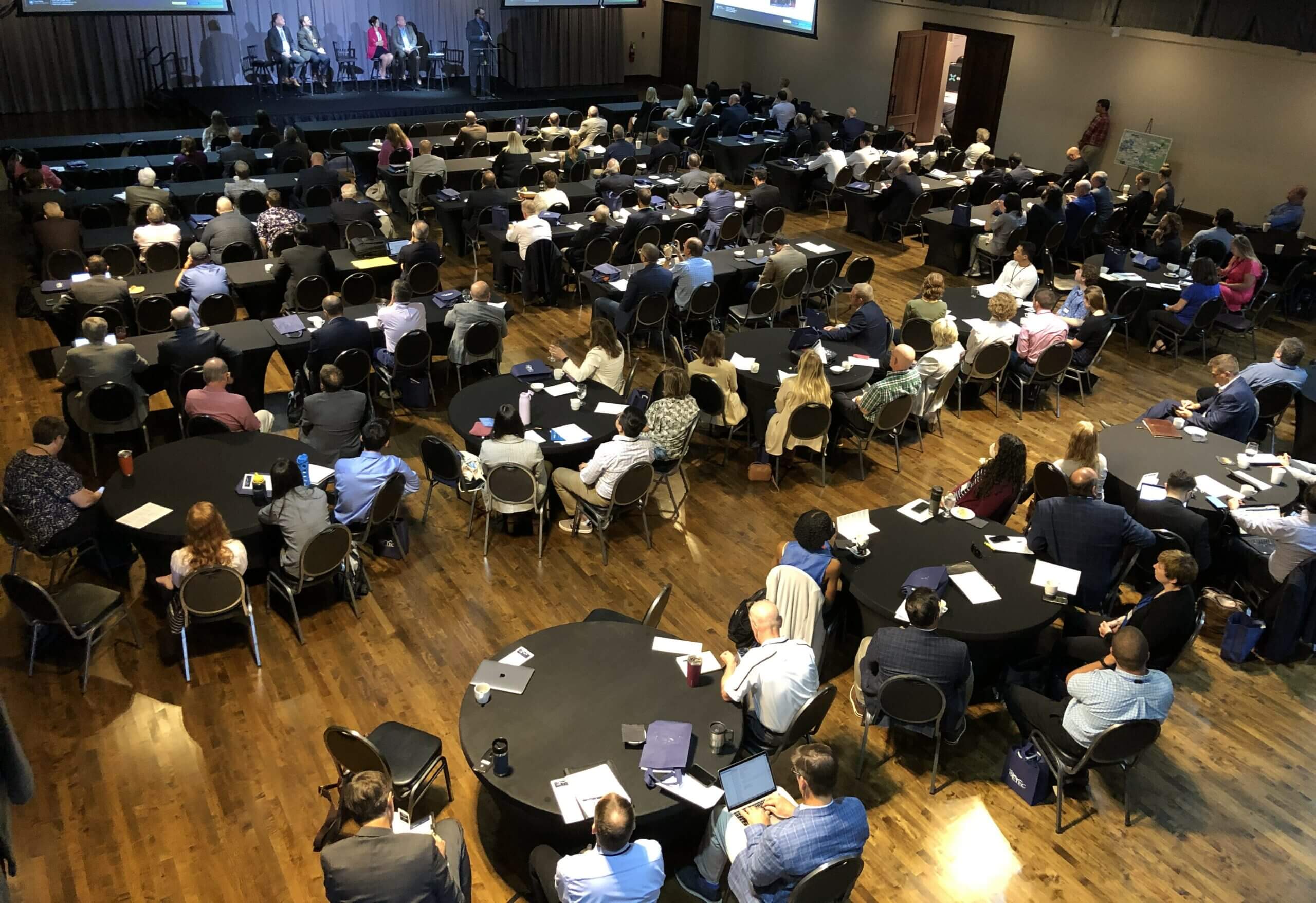 ETEC's Nuclear Working Group
ETEC's Nuclear Working Group, formed in 2007, comprises over 20 ETEC member companies and individuals who work in and with the nuclear industry and are interested in promoting East Tennessee as a great place to do business. They meet monthly to talk about the status of their nuclear projects occurring in our region and to plan the annual Nuclear Opportunities Workshop.
Click here to read the history of the Working Group from Dr. Eric Abelquist's perspective. These are the remarks he gave at an ETEC Friday Morning meeting on Friday, December 10, 2021.
Earlier in 2023, ETEC's President, Tracy Boatner, was part of some fun media focusing on the nuclear industry.