Nuclear Opportunities Workshop (NOW)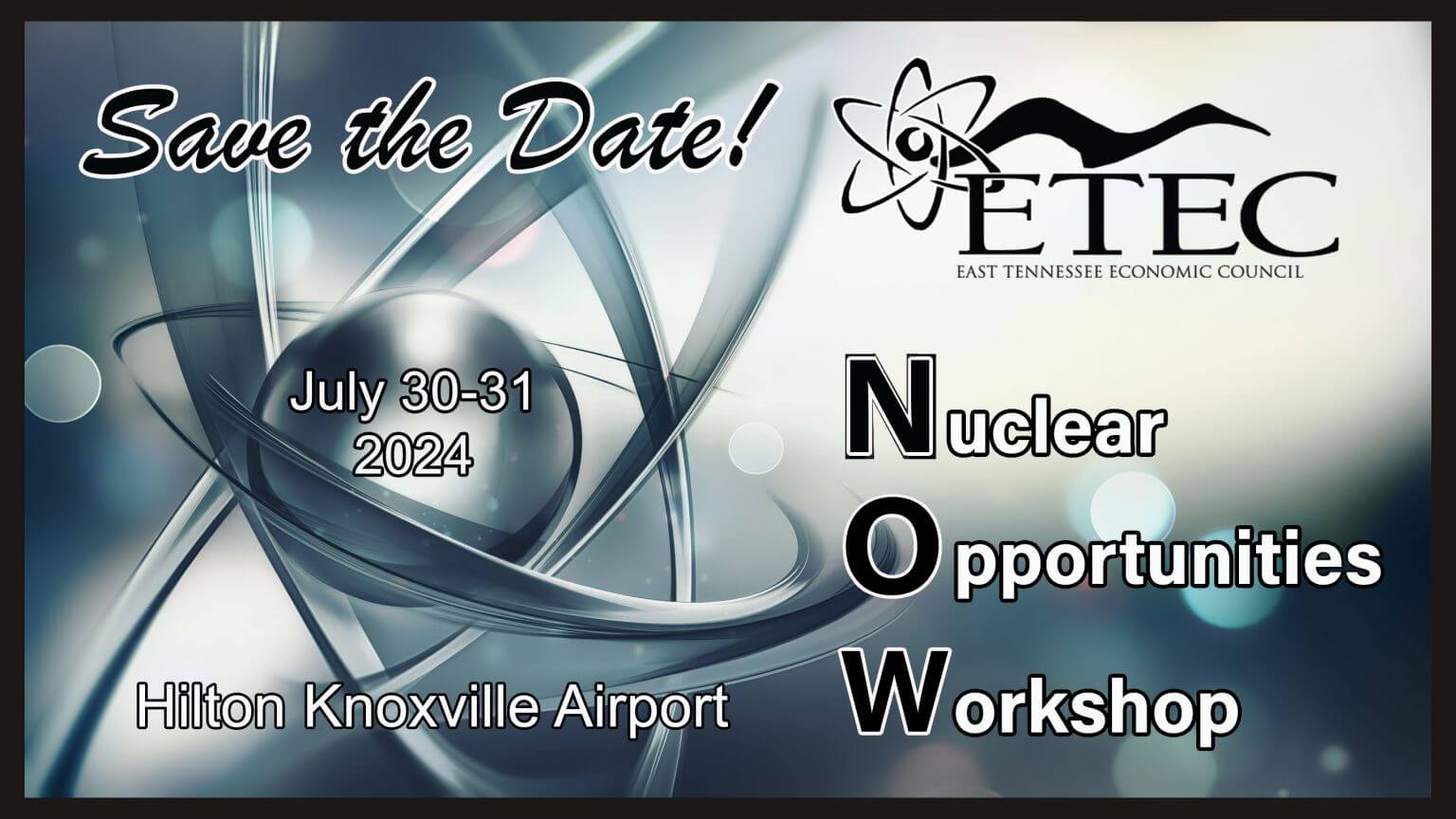 A nuclear industry conference focused on both fission and fusion subjects for professionals and suppliers. It is a place to learn about industry developments, business opportunities, and advancements in research and technologies. Attendees are able to network and connect with experts at Tennessee Valley Authority (TVA), and federal U.S. Department of Energy (DOE) and its contractors: Oak Ridge National Laboratory, Y-12 Nuclear Security Complex, United Cleanup of Oak Ridge (UCOR), and Oak Ridge Associated Universities (ORAU). Also, both small and large private-industry companies that have demonstration projects, technology capabilities, students, interns, and post-doctoral candidates are in attendance.
SAVE THE DATE!
ETEC's next Nuclear Opportunities Workshop will be a full 2-day conference held on July 30-31, 2024 at the Hilton Knoxville Airport
Make plans to join us in the Oak Ridge Corridor for this growing, engaging, and informative conference.
ETEC's 5th annual Nuclear Opportunities Workshop hosted 400 attendees that included experts in both nuclear fission and fusion energy, national security, radioisotopes, environmental management, workforce, and students interested in these fields. The 1-1/2 day event was held at the Hilton Knoxville Airport on Tuesday & Wednesday, August 1 & 2, 2023.
Tennessee Governor Bill Lee opened the conference with a welcome video created especially for the event. Click here to watch the video.
The panel discussions were each formatted differently and each of the conversations touched on the topics of supply chain, workforce development and needs, and emerging technologies. The panel topics were:
Nuclear Advanced Reactor Development Status & Lessons Learned
Nuclear Fuels
Nuclear Fusion Development & Progress
Nuclear Workforce, Training & Technology Advancements
Nuclear Cleanup & Environmental Justice
Nuclear & Energy Security
Nuclear Medicine & Radioisotopes
Insightful and informative keynote presentations were given by:
Chuck Fleischmann, U.S. Representative (TN-03)
Dr. Michael Goff, Principal Deputy Assistant Secretary for the U.S. Department of Energy's Office of Nuclear Energy
Jeff Lyash, CEO, Tennessee Valley Authority
Stuart McWhorter, Commissioner, Tennessee Department of Economic and Community Development
Deniece Thomas, Commissioner, Tennessee Department of Labor and Workforce Development
At the reception on Tuesday evening, August 1, attendees enjoyed interacting with each other and meeting the members of ETEC and the Oak Ridge community to joined us specifically to welcome our conference attendees. The participants were welcomed by the Lieutenant Governor of the State of Tennessee Randy McNally, William "Ike" White, Senior Advisor of the U.S. Department of Energy's Office of Environmental Management, and Tennessee State Senator Ken Yager.
The conference was supported by 35 organizations. You can see their logos at the bottom of this page. Attendees enjoyed visiting the exhibit booths/tables of 32 of the sponsors. Supporters included: Consolidated Nuclear Security, Oak Ridge National Laboratory, Tennessee Valley Authority, University of Tennessee-Oak Ridge Innovation Institute, Centrus Energy, Kiewit, Omega Technical Services, Oak Ridge Associated Universities, United Cleanup Oak Ridge, American Museum of Science & Energy, Barnhart Crane, Boston Government Services, EnergySolutions, Fluor, Jacobs, Kairos Power, Kinectrics, Longnecker & Associates, Merrick, MillenniTek, MS Technology, Navarro Research and Engineering, the Nuclear Energy Institute, Nutherm International, Pelican Energy Partners, Pro2Serve Professional Project Services, Rockwell Automation, S&ME, Scientific Sales, Spectra Tech, Strata-G, Teledyne Brown Engineering, TRISO-X, Turnkey Sales, and the Waste Management Symposium.
As expected, the most popular topic during the 2 days of discussion centered around workforce.  The 70 or so students who attended were very popular.
Highlights of the event included the unveiling of the 'Nuclear Is Here' display. This 20' x 7' graphic was compiled and created by the Oak Ridge National Laboratory in conjunction with ETEC's Nuclear Working Group. Conference participants were invited to give feedback on the future workforce needed for the nuclear industry. If you have thoughts or workforce needs to share, visit this survey link to add your comments to the discussion.
At the conference Roane State Community College announced the launch of their Nuclear Technology Program and was presented with a $100,000 check from UT-Battelle, LLC, which manages and operates Oak Ridge National Laboratory for the U.S. Department of Energy.
ETEC's newest rendition of the Nuclear Industry map was on display as well. As a companion piece to the Nuclear Is Here display, it visually shows how the nuclear industry is positioned across the state. There are 229 nuclear companies in Tennessee, and 154 are of them are located in the Oak Ridge-Knoxville area.
The newest company to be added to that list will be Type One Energy Group. A fusion energy company whose corporate strategy is to organize around fusion talent centers. They made this announcement at the NOW Conference. Click here to read the article.
ETEC's next Nuclear Opportunities Workshop will be held July 30-31, 2024 at the Hilton Knoxville Airport.
Click here to receive updates about the event and make plans to join us in the Oak Ridge Corridor for this growing, engaging, and informative conference.