Past Nuclear Focused Events
ETEC's Nuclear Working Group hosts a conference each year to highlight opportunities in the nuclear industry.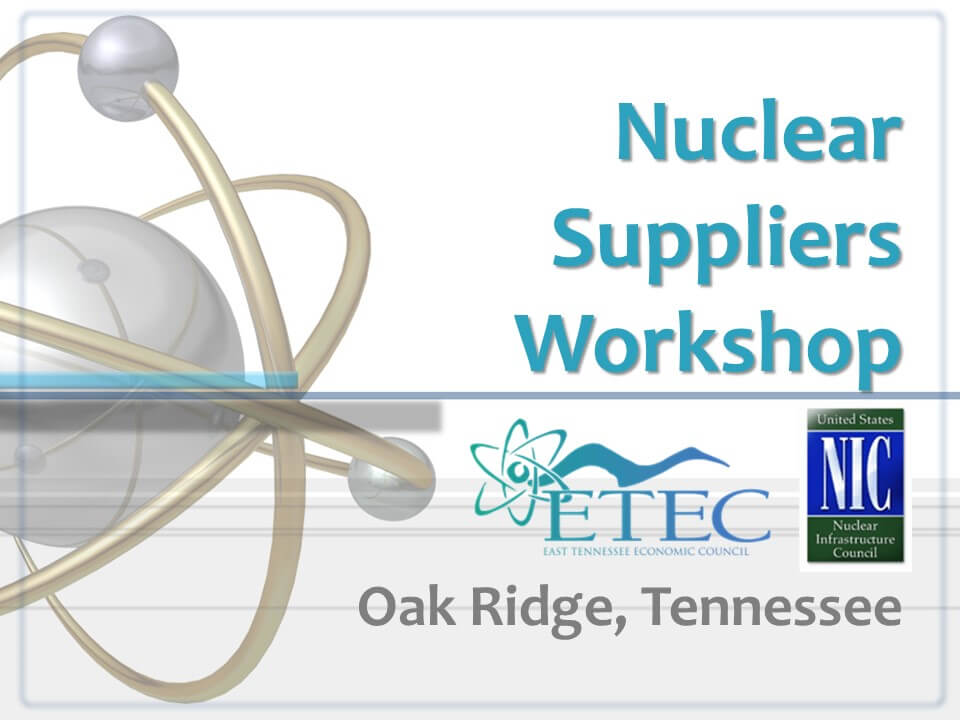 In 2017, ETEC and the U.S. Nuclear Infrastructure Council (USNIC) hosted the 1st Nuclear Suppliers Workshop on September 6­-7 at the Pollard Technology Conference Center on the Oak Ridge Associated Universities (ORAU) campus in Oak Ridge, Tennessee.
The focus of the event was on manufacturing opportunities arising in the Southeastern U.S. around small modular reactors, next-generation nuclear technology, nuclear medicine, and national security programs.
Session topics included workforce and training, certification programs, and the global marketplace.
The two-day workshop included an evening reception for attendees and business/community leaders, and optional tours of ORNL, Y-12, or ORNL's Manufacturing Demonstration Facility (MDF).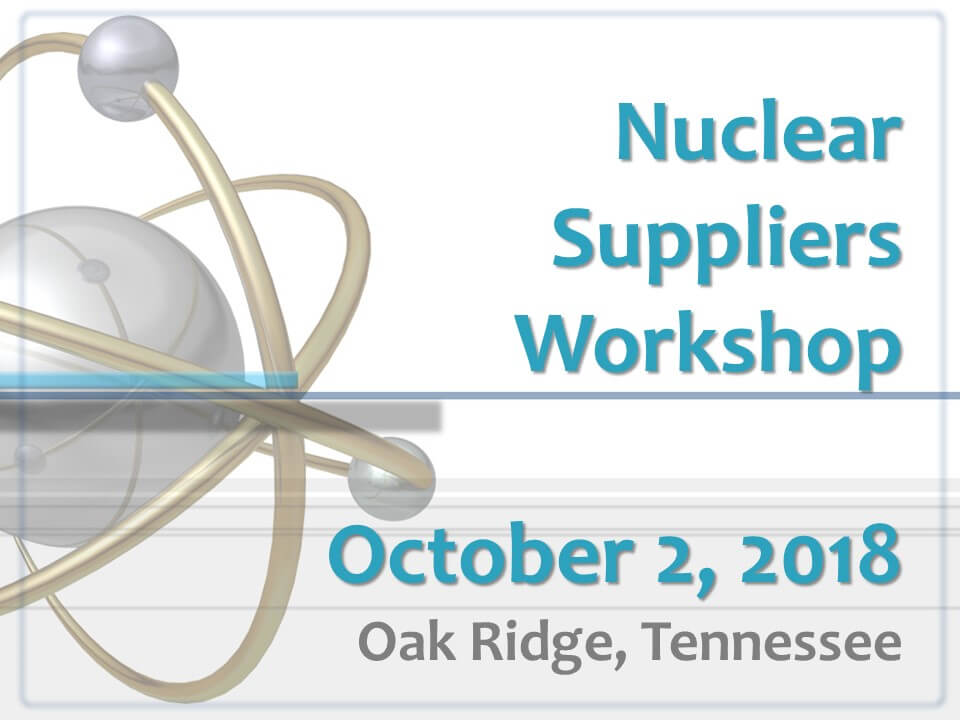 The 2018 Nuclear Supplier's Workshop was held in the Conference Center at Oak Ridge National Laboratory (ORNL).
2018 marked the 75th anniversary of Oak Ridge's role in nuclear energy. To commemorate that marker, presenters at the NSW, in collaboration with ORNL and Y-12, covered nuclear energy, next-generation nuclear technology, nuclear medicine, and national security.
Speakers included John Kotek with the Nuclear Energy Institute and Adam DeMella with the U.S. Senate Committee on Appropriations, Energy, and Water
The NSW was part of the Nuclear Opportunities Week (N.O.W.) that was held October 2-5, 2018 in Oak Ridge and Knoxville, Tennessee and included: ETEC's Nuclear Suppliers Workshop, ETEBA's Business and Opportunities Conference, ORNL's Molten Salt Reactor Workshop, Y-12's National Security Programming, and the DOE Nuclear Energy's Millennial Nuclear Caucus.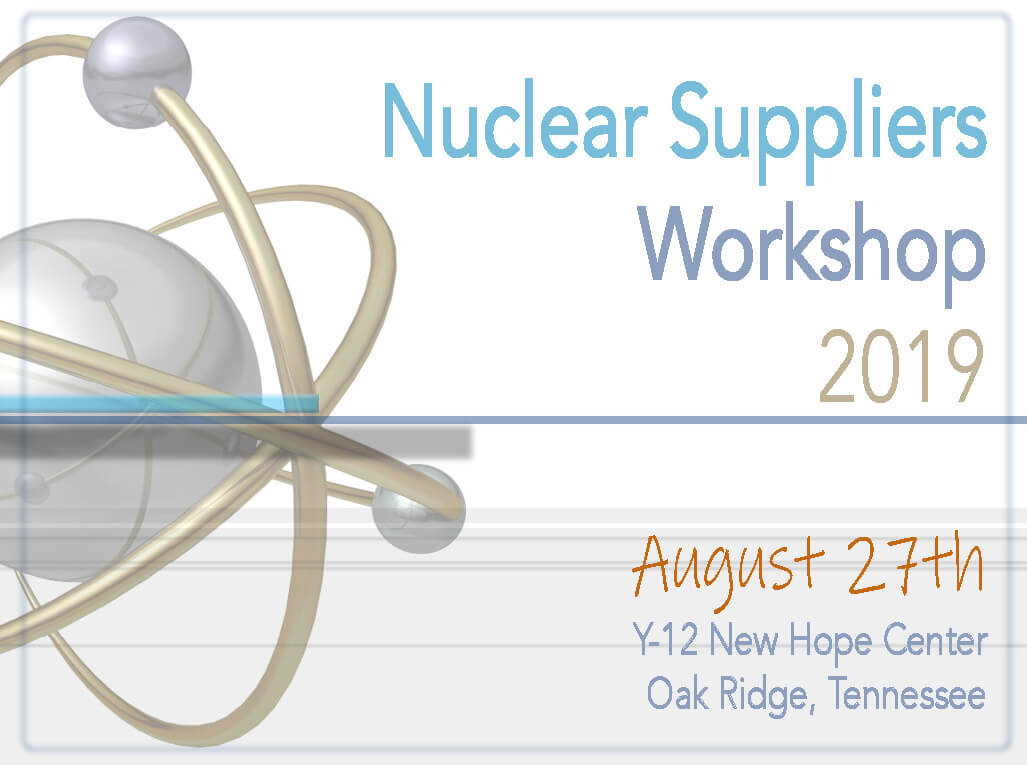 The 2019 Nuclear Suppliers Workshop was held on August 27, 2019 at the Y-12 National Security Complex (Y-12) in the New Hope Center. The event focused on supply opportunities for advanced nuclear reactors, nuclear fuels, additive manufacturing for nuclear, and nuclear medicine. Highlights included:
Rita Baranwal, Assistant Secretary of Energy, was the keynote speaker.
Breakout sessions for a more informal dialogue with industry representatives
Opportunity to tour Oak Ridge National Laboratory's Manufacturing Demonstration Facility.
Opening reception on the evening of Monday, August 26, at TownePlace Suites by Marriott Oak Ridge.
In early summer 2019 ETEC partnered with the U.S. DOE Office of Nuclear Energy to facilitate one of DOE NE's Millennial Nuclear Caucus. Held on June 21st with a community reception at the American Museum of Science & Energy (AMSE). the evening prior, the event was attended by early career professionals and interns from the federal sites in Oak Ridge, and private companies around the region.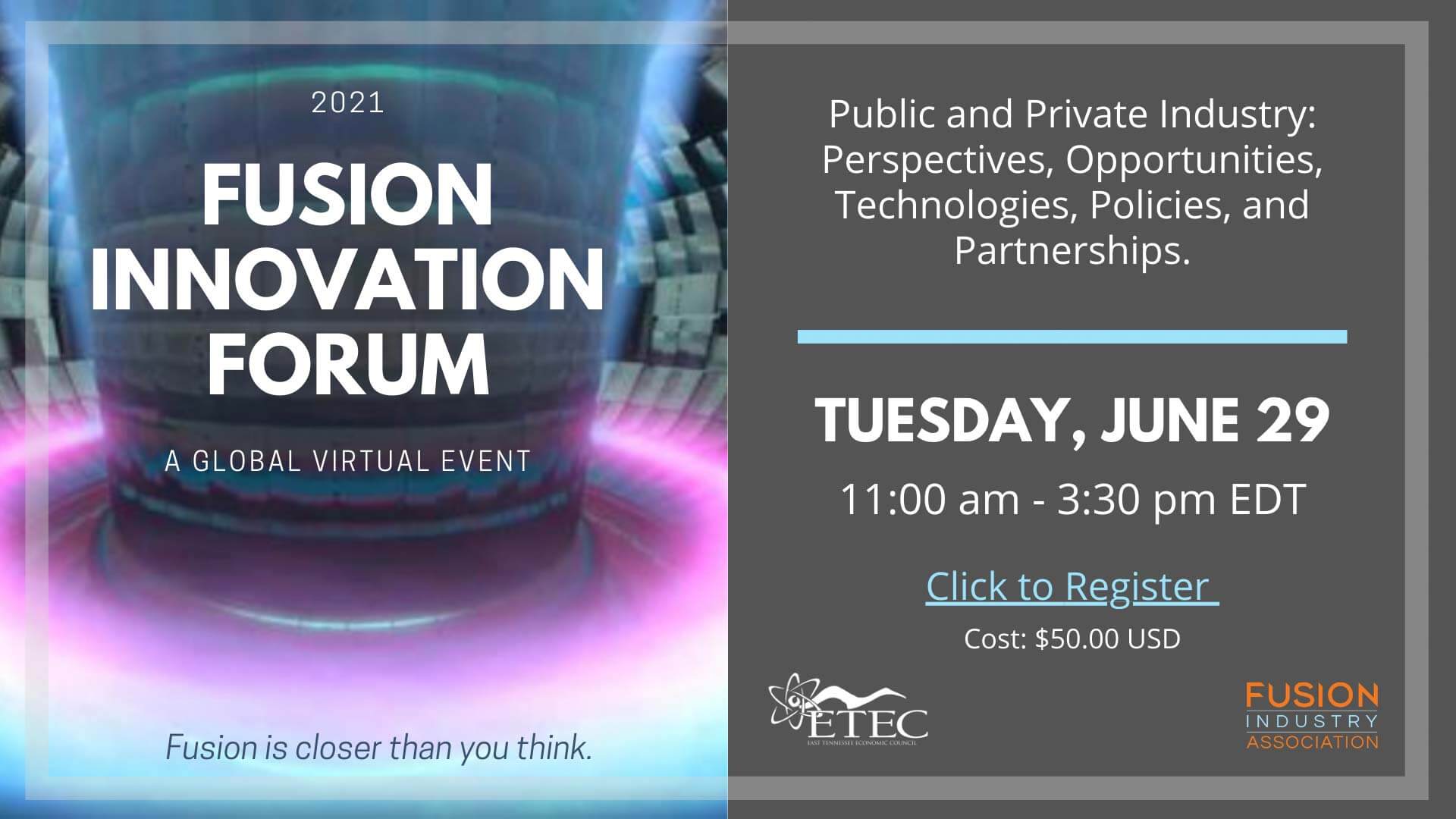 On June 29, 2021, public and private industry leaders met virtually for a discussion on fusion innovation. This virtual event was hosted by the Fusion Industry Association, located in Washington DC, and the East Tennessee Economic Council, located in Oak Ridge, Tennessee.
The online Zoom event featured:
Keynote presentation by General Fusion's Chief Business Development Officer Jay Brister
Panel discussions on:
Enabling Fusion Innovation in the Private Industry Sector
Research and Development Technologies, Opportunities, and Partnerships in Fusion
Fusion from the Utility's Perspective to Include Regulatory and Public Policy Issues
Comments from U.S. Representatives who are a part of the Congressional Fusion Caucus
Testimonials:
"Probably one of the best virtual events I've attended. The discussions were engaging and insightful."
"This was a really good event. As someone that spent ~8 years on the US ITER project, it was nice to hear the progress and new avenues to fusion. I'm happy to see more opportunities coming to Oak Ridge."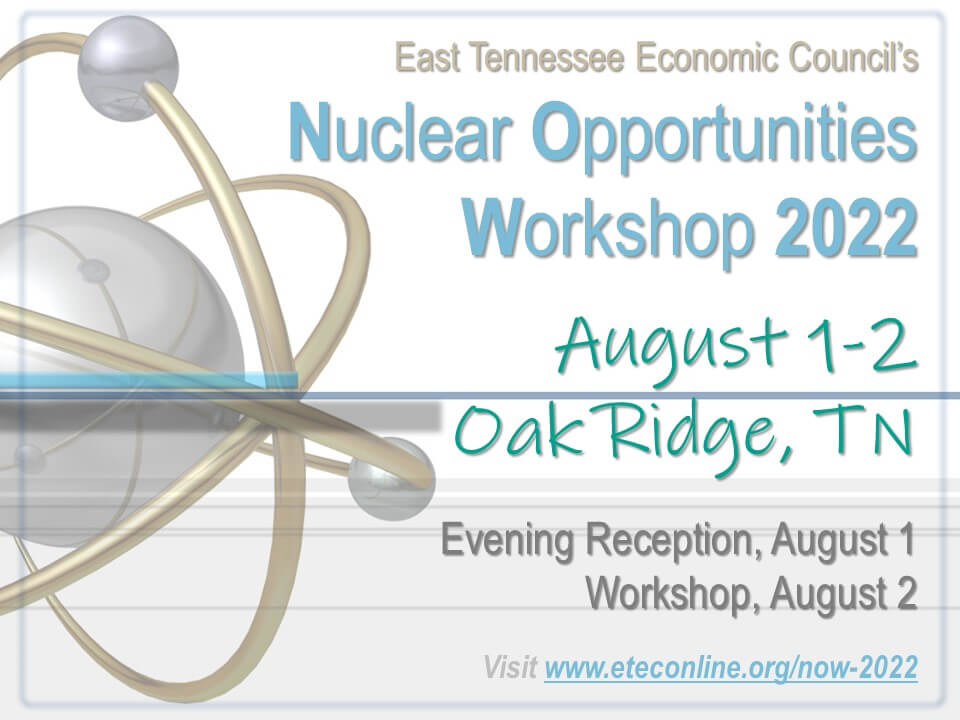 ETEC's 2022 Nuclear Opportunities Workshop hosted 200 attendees including experts in nuclear energy, national security, radioisotopes, environmental management, and nuclear workforce, along with students interested in these fields, fill the Bridgewater Place Event Center on Tuesday, August 2, 2022. Topics discussed included:
Advanced Reactors: Lessons Learned in the Early Days of Advanced Reactors
Nuclear Fuels: Nuclear Fuel Demand and Development
Radioisotopes: Impact and Processes of Radioisotope Production
Nuclear Workforce: Workforce Initiatives and Opportunities Available to the Nuclear Industry in East Tennessee
Keynote presentations were given by:
Jon Carmack, Senior Technical Advisor to the Assistant Secretary of Nuclear Energy, U.S. Department of Energy, Office of Nuclear Energy
Greg Boerschig, Vice President of the Clinch River Project for the Tennessee Valley Authority
Jon Ball, Executive Vice President of GE Hitachi Nuclear Energy
At the reception on Monday evening, August 1 at the American Museum of Science and Energy (AMSE), attendees enjoyed interacting with each other, having good food and drink, and being welcomed by Oak Ridge City Mayor Warren Gooch, State Rep. John Ragan, and U.S. Rep. Chuck Fleischmann.