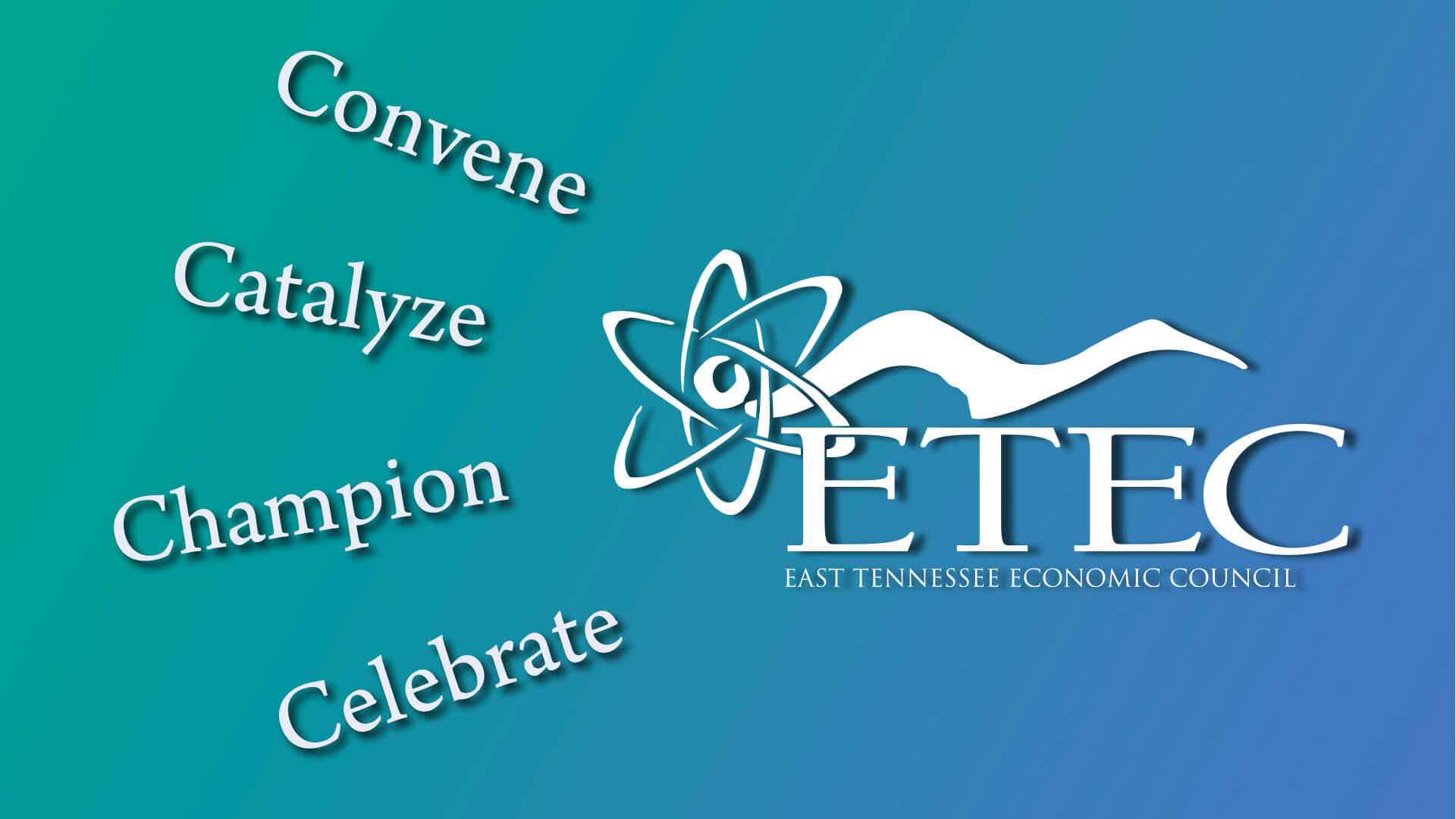 ETEC's mission remains to support the federal facilities in the region and foster economic growth in partnership with those assets. Telling our story, connecting people, looking for new opportunities is all part of what we do daily.
Each year the Council's leadership establishes a living work plan that focuses our collective efforts on growing the federal missions in East Tennessee and creating opportunities for economic growth around those missions.
Fundamental to that work is communication–weekly meetings and communications to share what is going on inside the federal programs, and also those factors that create new opportunities in the private sector. See our calendar section on this site for updates on our meetings and special events.
Also, we believe it is important to celebrate the successes of our members and outstanding individuals in our community (See the Order of the Muddy Boot and the Postma Young Professional Medal), and we find ways throughout the year to honor businesses for their good work.
The Council also advocates for new programs and new missions in the federal complex in Oak Ridge.
Each year stakeholder meetings are held to formulate the plan.
Supporting the efforts of the Department of Energy's (DOE) M&O Contractors.  With two major contractor-related competitions underway, smooth transitions are important:
UT Battelle/Oak Ridge National Laboratory's priorities for the coming year include:

Second Target Station (STS) at the Spallation Neutron Source (SNS)
Frontier Exascale Supercomputing Program
Nuclear Infrastructure (critical for isotopes)
High Flux Isotope Reactor (HFIR)
Applied energy programs, such as Manufacturing Demonstration Facility (MDF)

Consolidated Nuclear Security (CNS)/ Y-12 National Security Complex's priorities for the coming year include:

Lithium Processing Facility (LPF)
New training facilities
Developmental engineering
West End Protected Area Reduction (WEPAR) Project
Uranium Processing Facility (UPF)

UCOR/DOE's Oak Ridge Environmental Managements priorities as outlined in the Go East Document:

A key issue this year will be moving forward with the waste disposal cell. DOE, the state, and EPA are continuing to work toward a decision that will allow us to continue the aggressive clean-up of the Oak Ridge
Community Development:
Work to enhance the efforts to grow the regional economy by helping to fill the gaps as identified in the TechStars Report (https://www.knoxmetroassessment.com/).
Support regional efforts to recruit industry through the partnership offices of our contractors
Support new higher education initiatives at the University of Tennessee and our community colleges: Pellissippi State Community College (PSTCC), Roane State Community College (RSTCC), and elsewhere
The UT-Oak Ridge Innovation Institute is a great new community asset.
Telling the Story of Economic Progress in East Tennessee:
Continue to convene our membership and partners in whatever way possible.
Continue to champion East Tennessee.
Serve as a catalyst for economic growth in whatever way we can.
Celebrate our successes.